Dating Game Show Style Video Shoot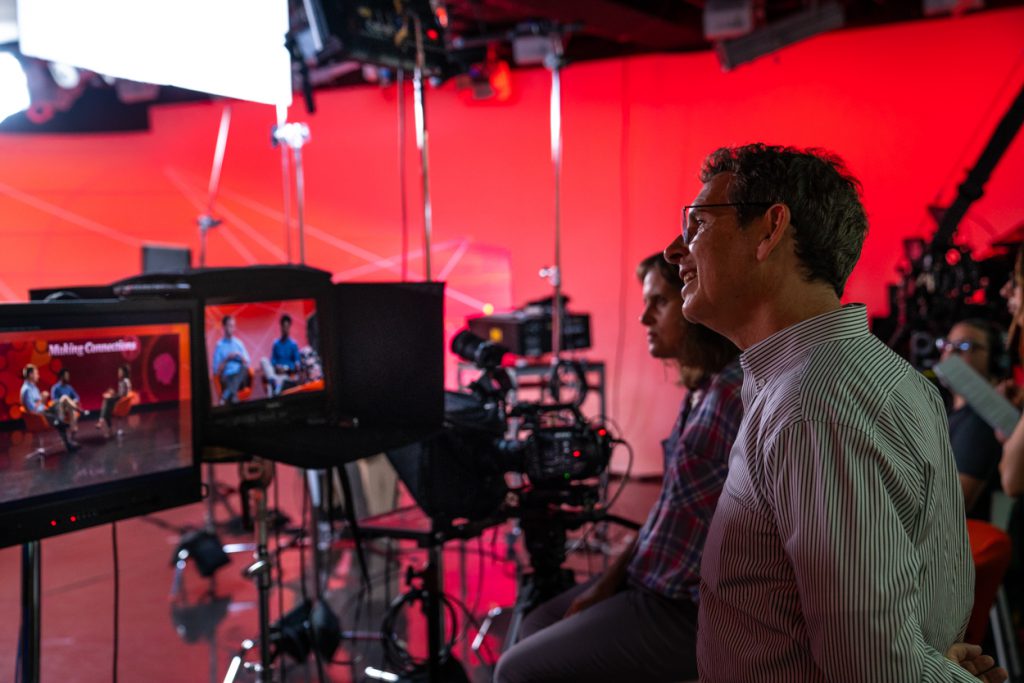 Production projects can be fun, intense, creative, challenging, rushed, hyper-technical…
…but its rare that they're all these things at once!  KSK Studios recently produced an internal communication for a client of ours that was designed to have the vibe of a dating game show.  This multi-camera studio shoot was put together from script to delivery in just weeks as part of our client's launch of a new HR platform for their 50k-plus workforce.
The idea was to hook the audience using a popular broadcast format, i.e., a dating show such as the "Love Connection", tying the idea of early relationships (the dating phase) to how this new platform enables newly formed teams to better manage and develop their work relationships and careers. KSK was charged with producing 3 topical programs plus a teaser clip in just over 2 weeks time.  Each program included a host introduction followed by interview-style Q&A style segment as well as team member confessional style testimonials.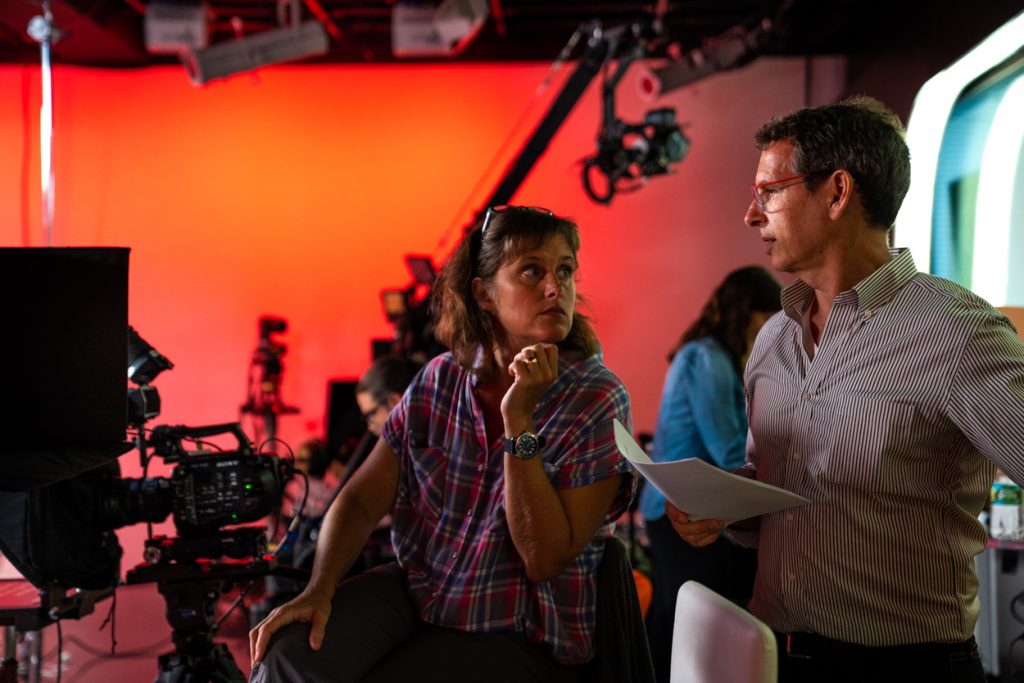 In the week running up to the shoot day, we did a lot of pre-visualization, creating high-impact motion graphics for the LED screen & projectors which added a lot of value to the visual impact for this fun concept shoot.  These graphics tied into design elements from our client's print, web & digital campaign to further support the communication strategy.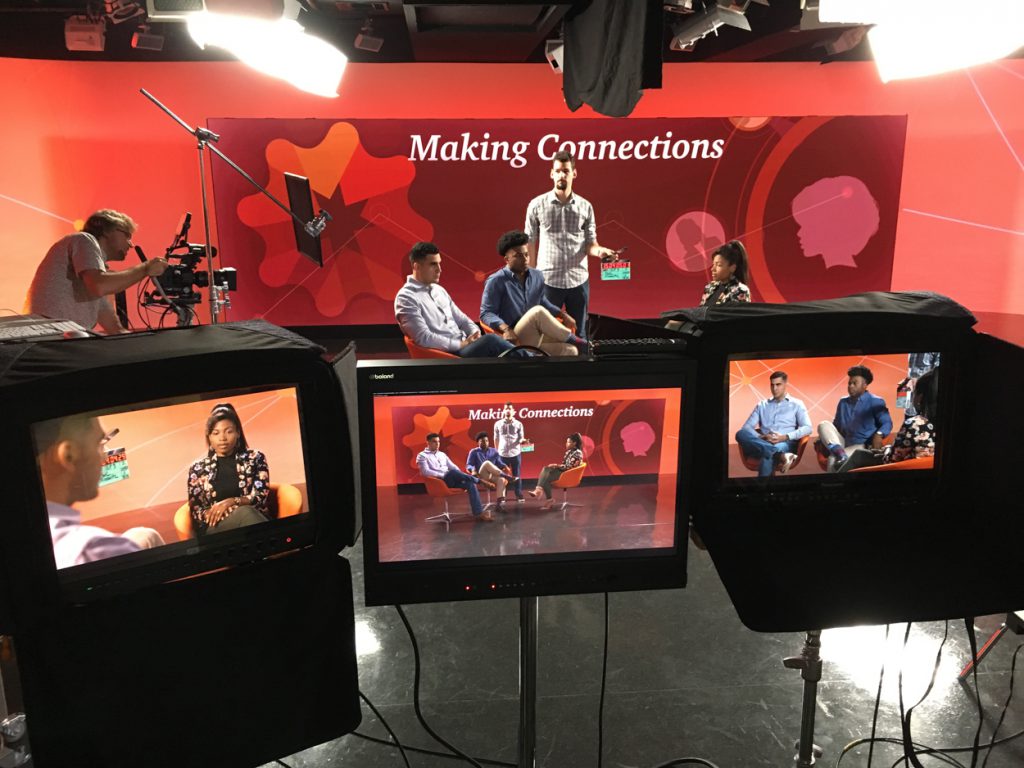 Having a three-monitor setup allowed Manny to mimic how a TV studio control room works, viewing each camera independently and allowing him and the team to finesse the frames in real-time, so as to ensure that all three shots not only looked great but would cut together well in post. This also allowed us to get a head start on post-production by making notes in real-time about our favorite moments.
Director Manny Kivowitz guided the cast through loosely structured conversations to ensure that critical topics would be covered in an engaging and authentic manner.  Avoiding tightly scripted content allowed our talent, all actual employees of the firm, to be extremely comfortable on camera. This allowed us to work efficiently, need fewer takes and to shoot all the content needed for 3 episodes and a trailer in a single shoot day.  We used Sony FS7 cameras, guided by our Director of Photography, Mia Barker.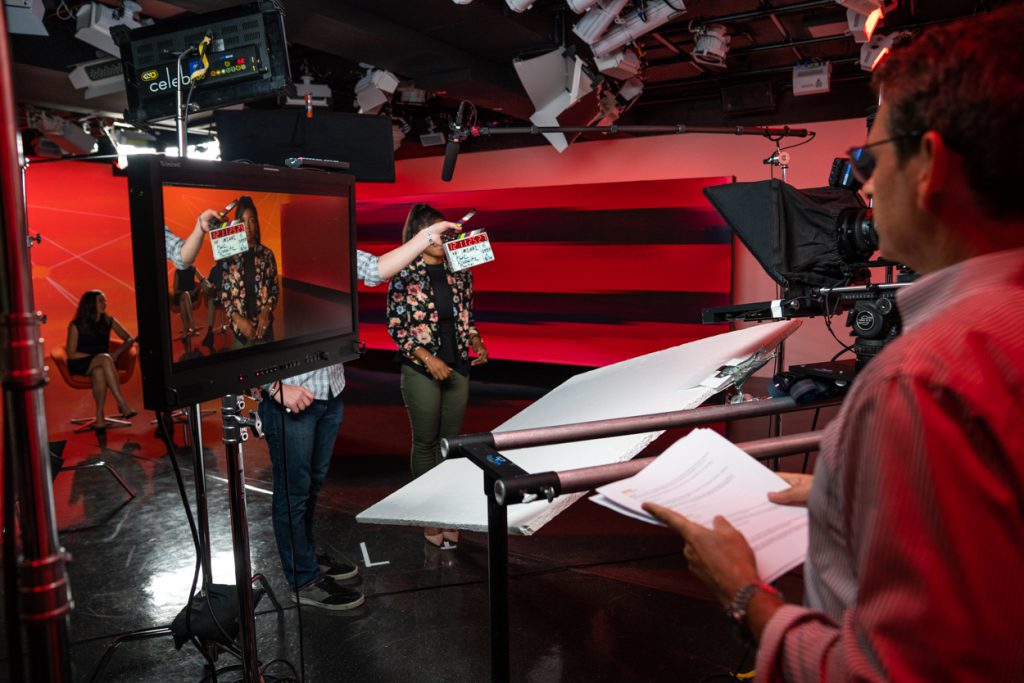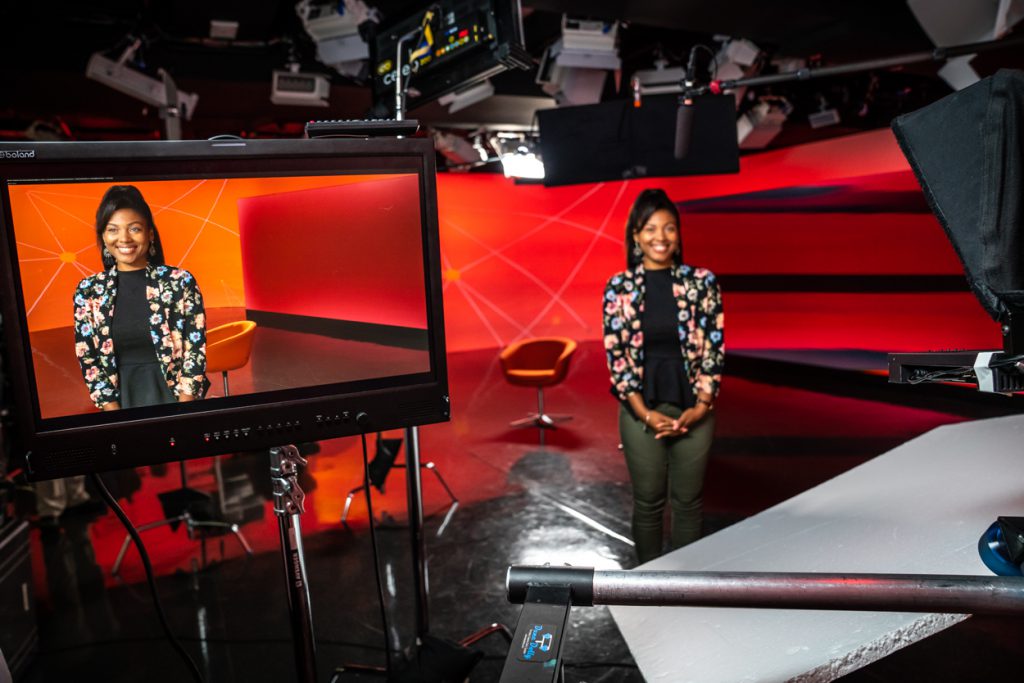 Having directors' monitors on set allows us to keep a close tab on how the actual image and performances are working on screen. Often, the set design, position of the talent, and lighting look very different to the naked eye than it does through the lens and on the screen. So it's important for us to monitor how the camera is capturing the image so that we can ensure that the final product is exactly what we want and our clients will want.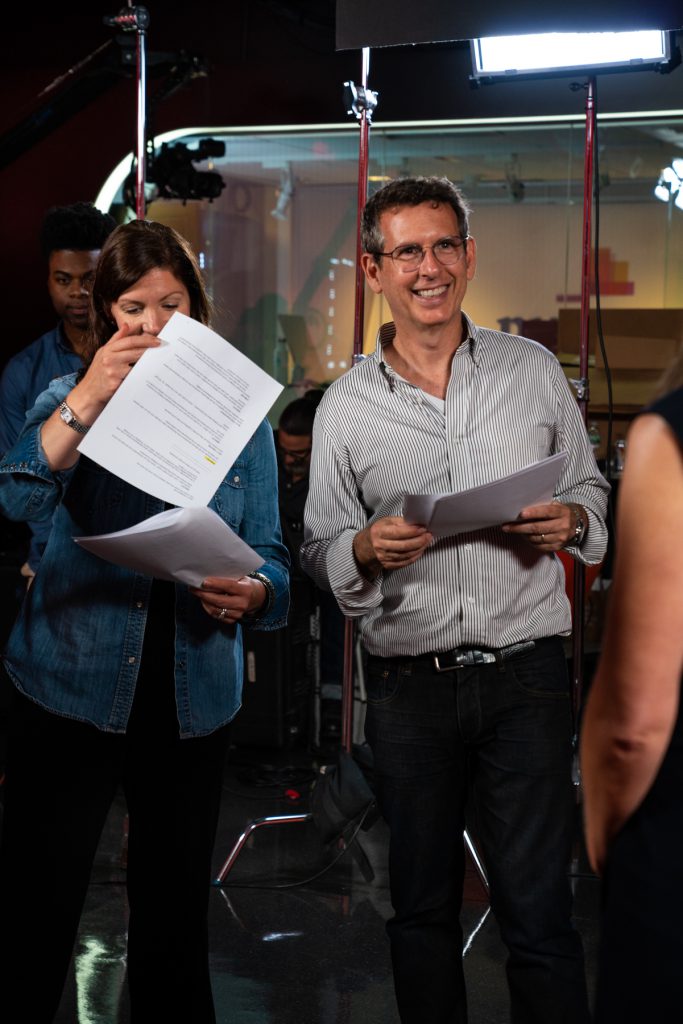 Positive collaboration with Clients, Agencies, Talent and the Production Team is critical to successful production and is a hallmark of every KSK Studios project.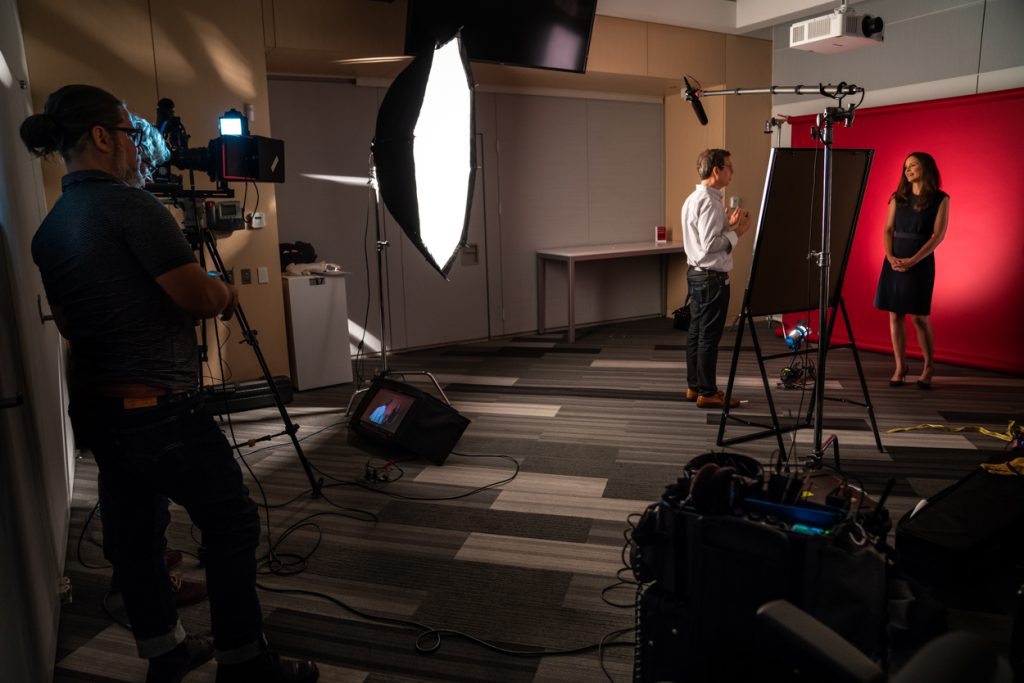 An important aspect of conducting "real people" confessional or interview-style shoots, is making sure that the subject feels comfortable and confident.  We want our subjects to be their most authentic selves in front of the camera, allowing them to deliver emotion, energy, and genuine body language that audiences can identify and engage with.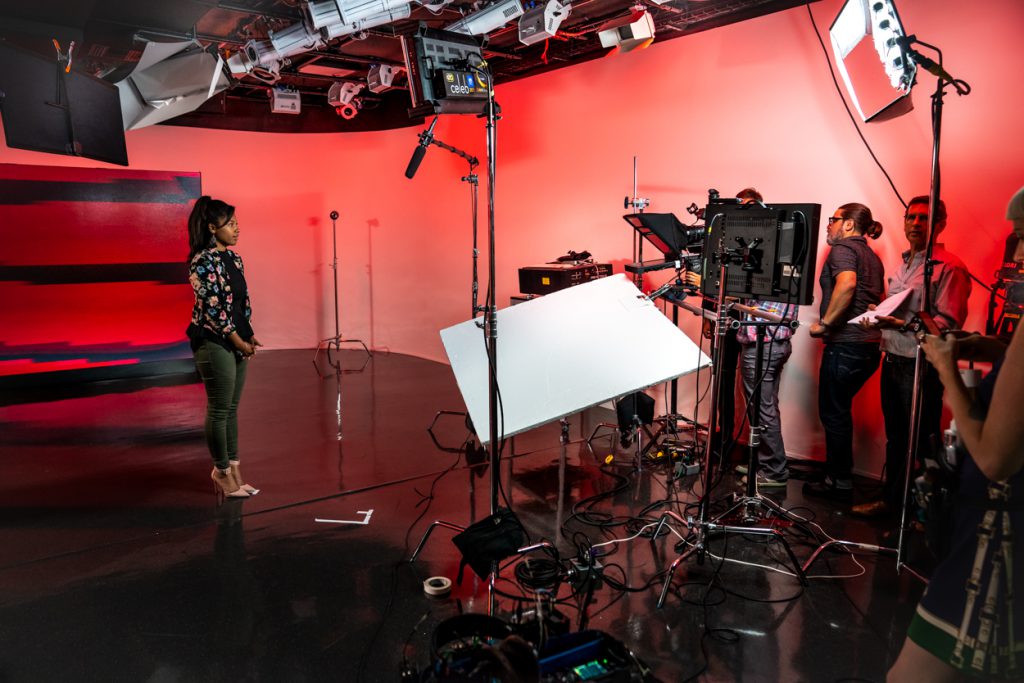 There is much more going on behind the scenes than what meets the eye!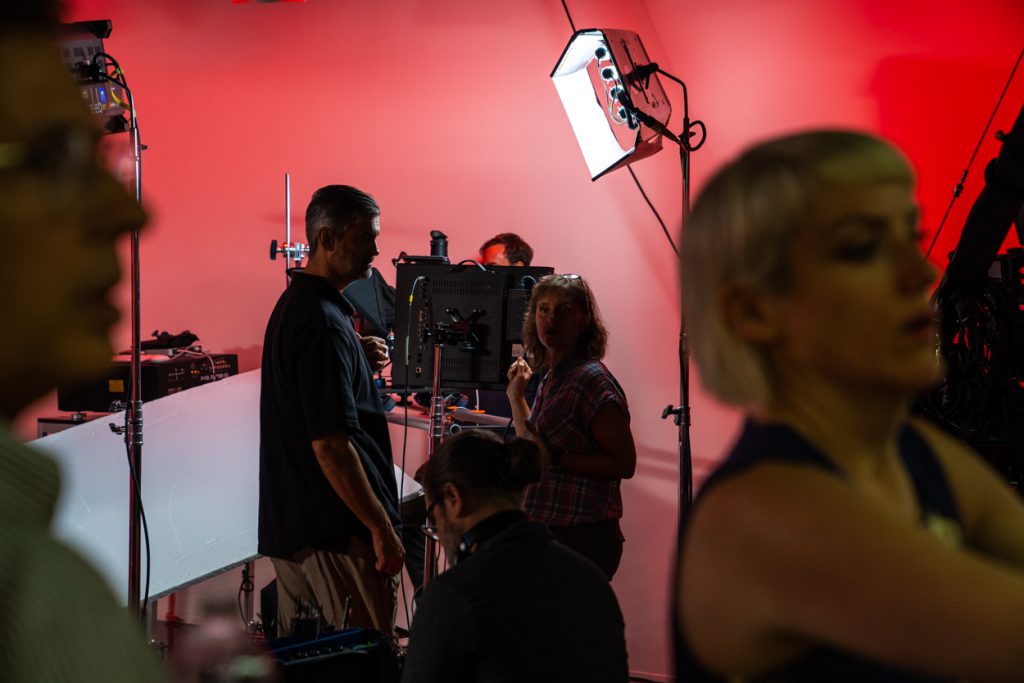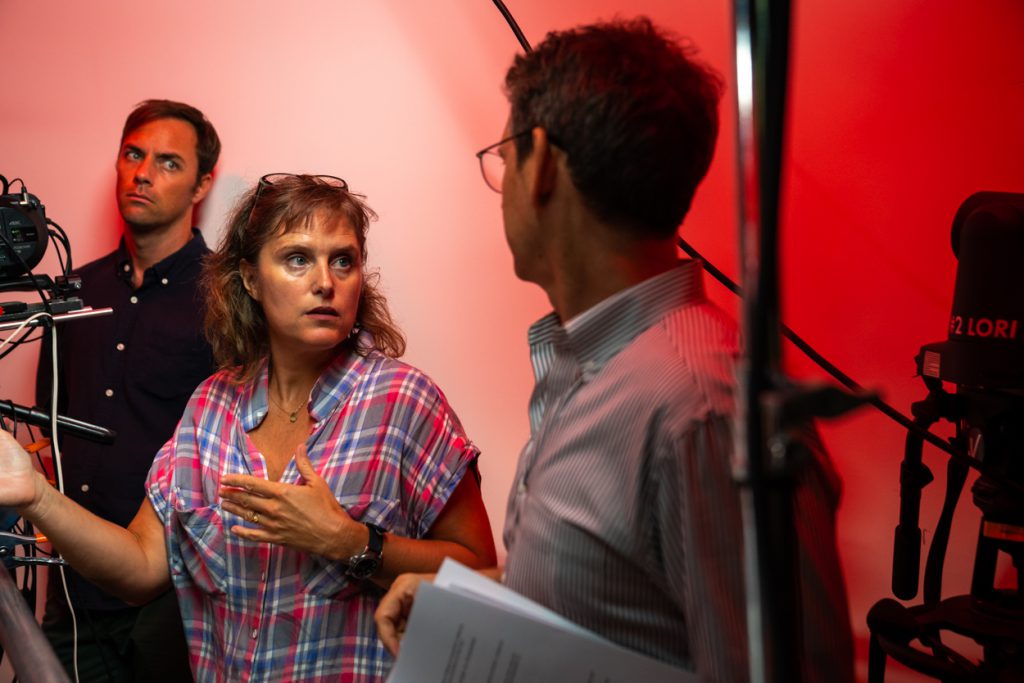 Communication is key on set. Here, Director Manny Kivowitz discusses the next shot with DP Mia Barker.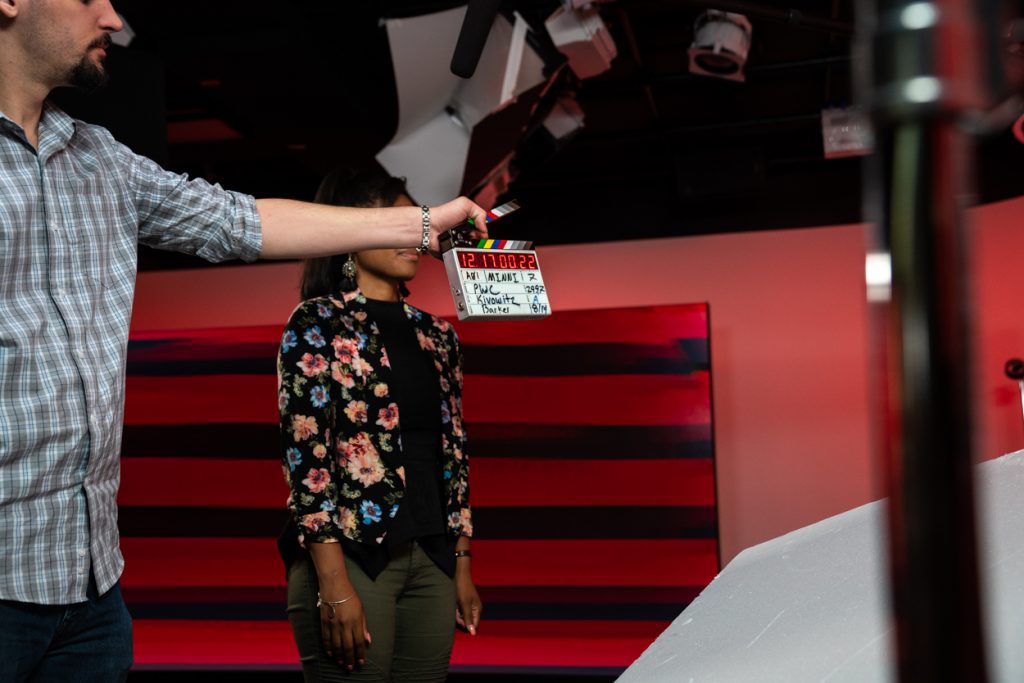 There are many different types of slates you can use for film and video production. When shooting multicamera synchronous shoots, the best ones to have a timecode digital counter, which ensures that separately recorded high-quality time coded audio can be accurately synced with the time coded video recordings during post-production. In high-end video production, the audio is typically recorded and monitored separately from the video to ensure the highest quality for both.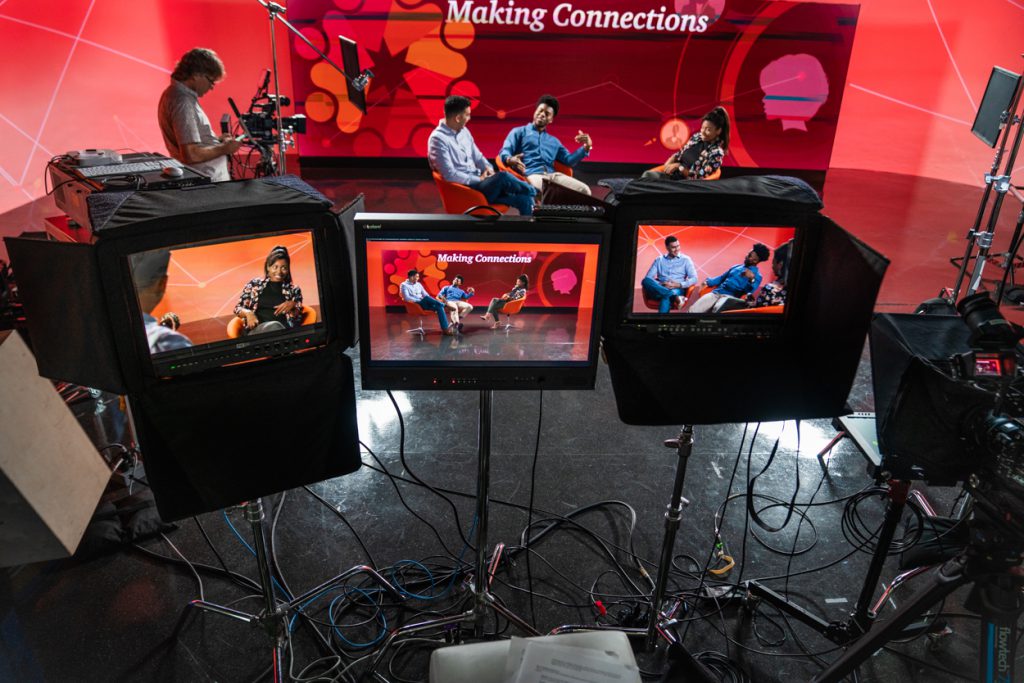 These three camera monitors correspond to all three cameras that are recording in the studio. By watching the trio, you can ensure that the action and shots being captured will work together when you move from your shoot day into the editing process.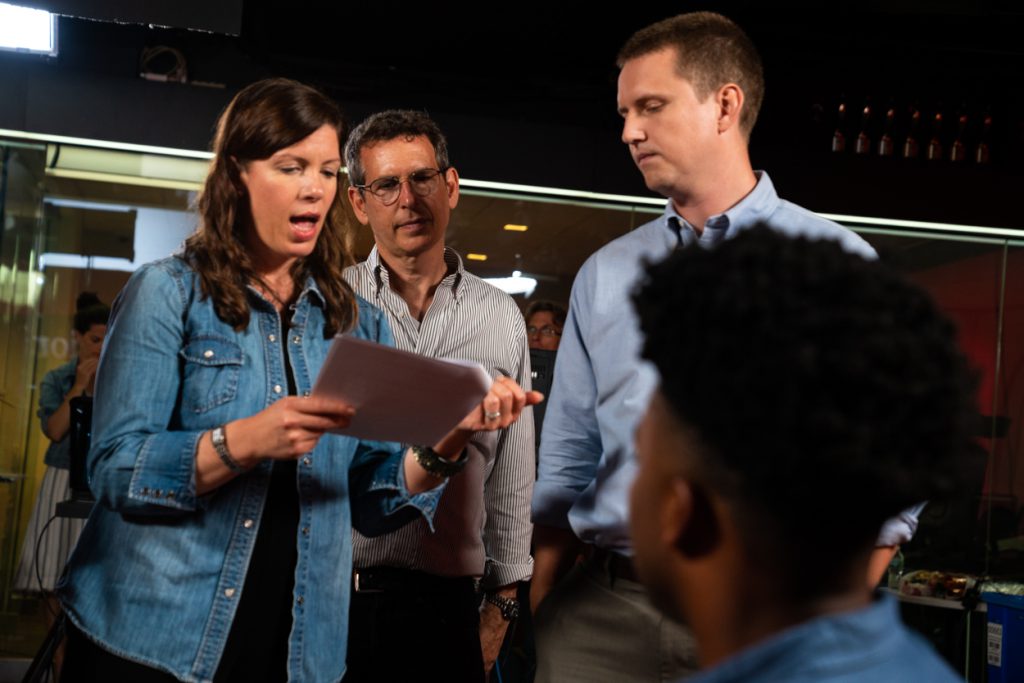 In preparing to shoot each scene, we review the shot list and script outline with clients and talent so that everyone on set is prepared for what's happening next.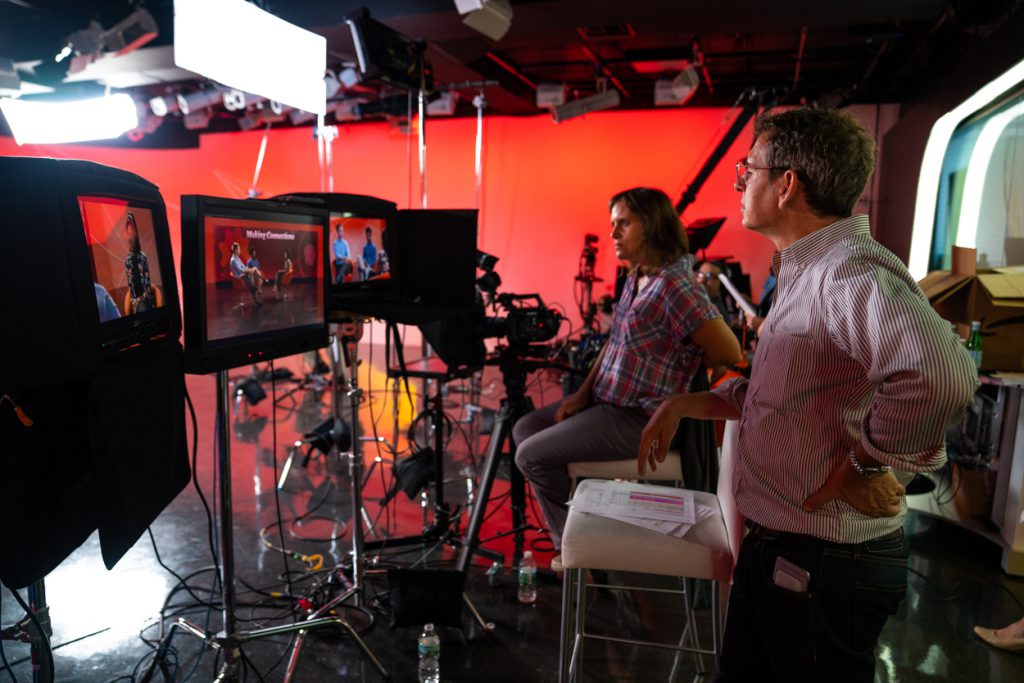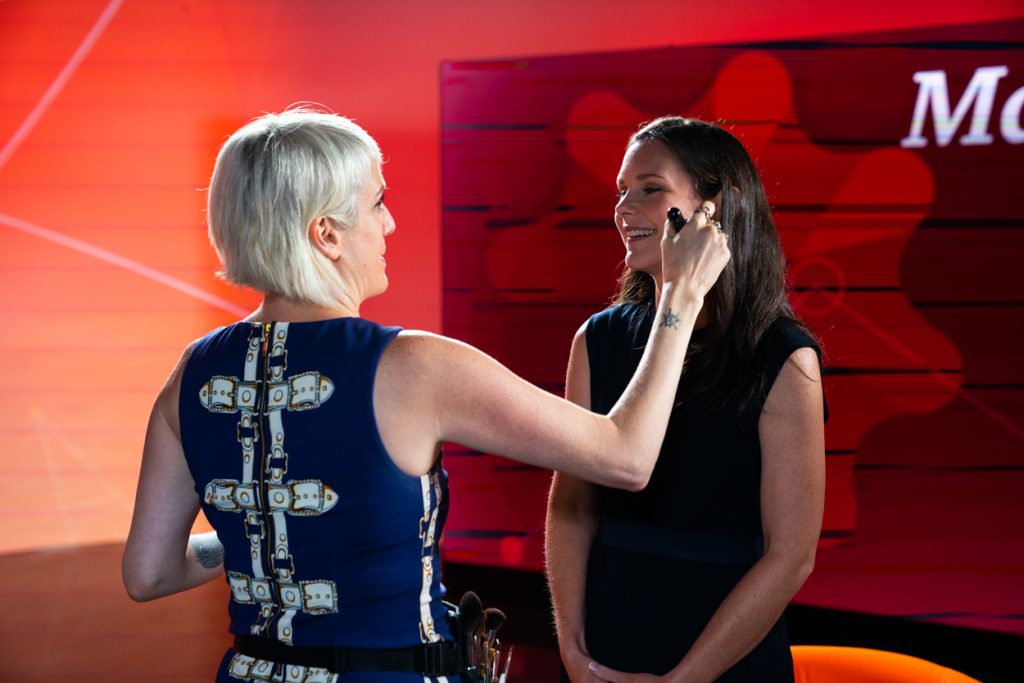 A little touch up here and there!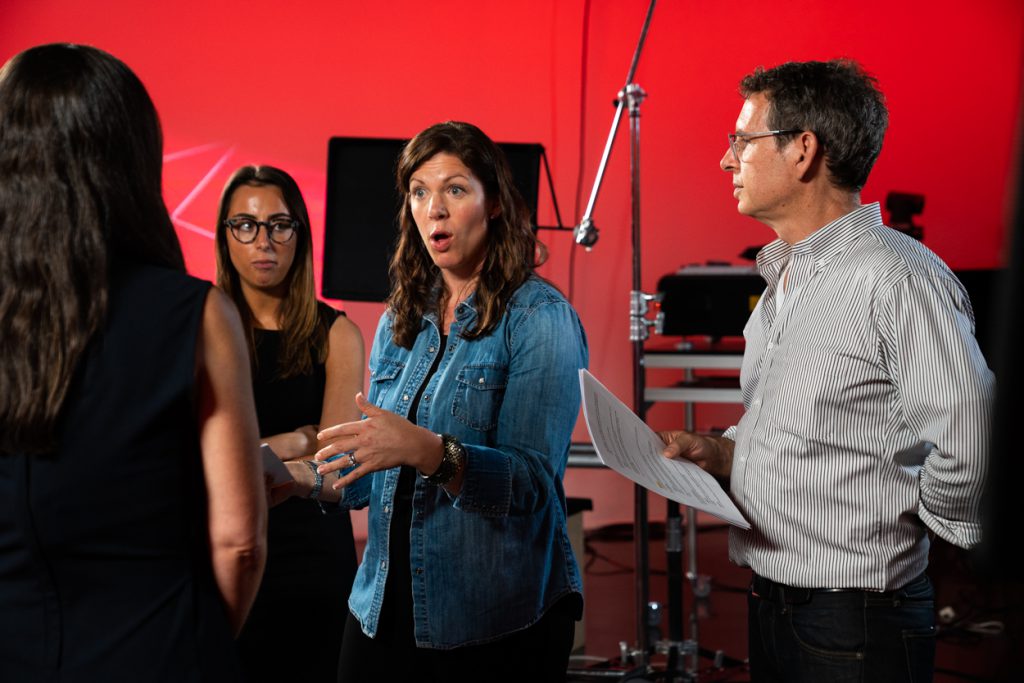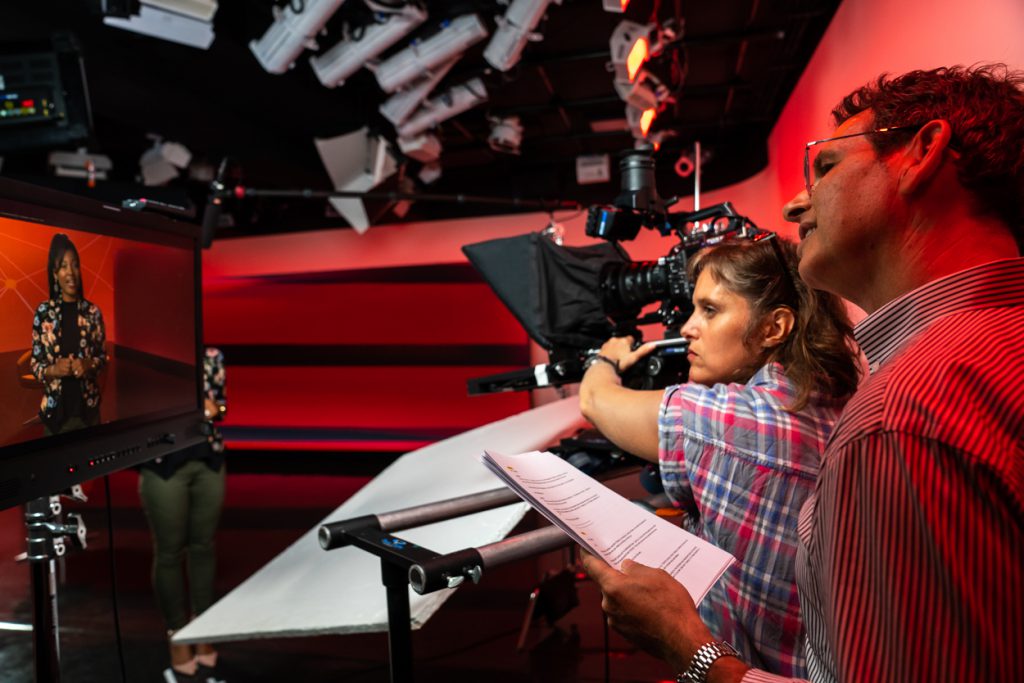 It's very rewarding to see everything come together into a great shot!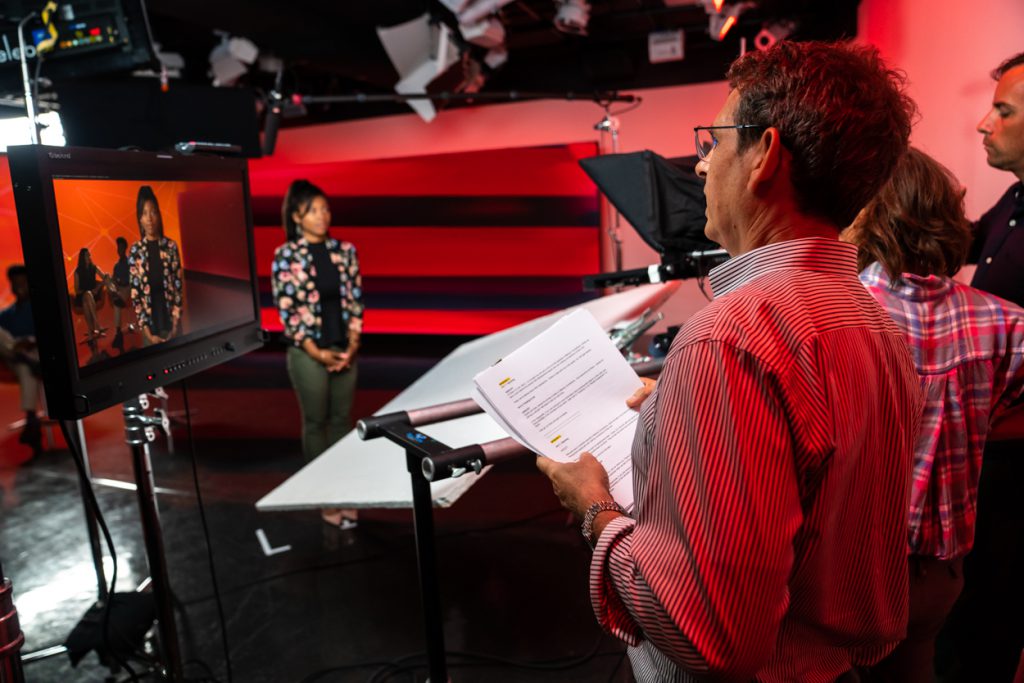 Panorama of our amazing set before the shoot!
KSK Studios is a New York City-based video production house.  Contact us at info@kskstudios.com if you have any questions about our work, or if you'd like a quote for your next project! info@kskstudios.com